An interaction at my place of work yesterday
Customer: Are the Tony Awards cupcakes different?
Me: It's the same recipe, but it has a special Tony Awards decoration on top of it.
Customer: Why?
Me: Well, we are celebrating the Tony awards!
Customer: Did it win a Tony?
Me: ...The cupcake?
Customer: Yeah
Me: Um. No.
I was HORRIFIED. HOW COULD A CUPCAKE WIN A TONY AWARD? The nominees are Patti Lupone, Audra McDonald, Kelli O'Hara, and Red Velvet.
Sometimes I forget that the rest of the world watches Wipe Out and has no idea what musical theatre even is. I personally spend most of the Tony's crying over how I will never make it and convincing myself that I am completely and utterly talentless (I'm really fun). If someone has a particularly inspiring speech, I then convince myself I am god's gift to theatre and plan my speech. Let's be real, I definitely have been doing theatre long enough that I know the structure of how it will all go down. Shock and Awe when they call my name. Sutton Foster, who was also nominated, will stand up and give the camera one of those "I knew she'd win, but I'm so happy, because she was the one who truly deserved it" looks. I will awkwardly stumble to the stage in shock, hugging Norm Lewis, Audra, Sondheim, etc. etc. along the way. I'll probably trip over something, but the crowd will find it endearing and special, laughing to themselves and saying, "Oh Hannah. How rich." My speech will include some hilarious anecdotes from my youth, a few choked back tears, and probably some sort of YOU GO GIRL YOU CAN DO IT EVEN IF PEOPLE SAY YOU ARE FAT AND UNTALENTED sort of message. Just some thoughts I had...Oh and also my dear, sweet boyfriend, Ryan Gosling, will be tearing up in the audience. Then after the ceremony he will take me to a lake filled with swans where we will ride in a canoe and get caught in a craaaazy rainstorm. And he'll be like I WROTE YOU EVERY DAY. And I'll be like UH-UH NO YOU DIDNT. I NEVER GOT YOUR LETTERS. And then I will wake up and realize I have been in a mental institution all along....SCENE.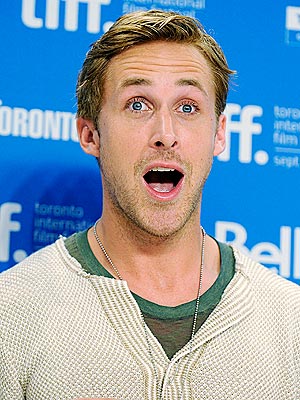 He is so excited for me